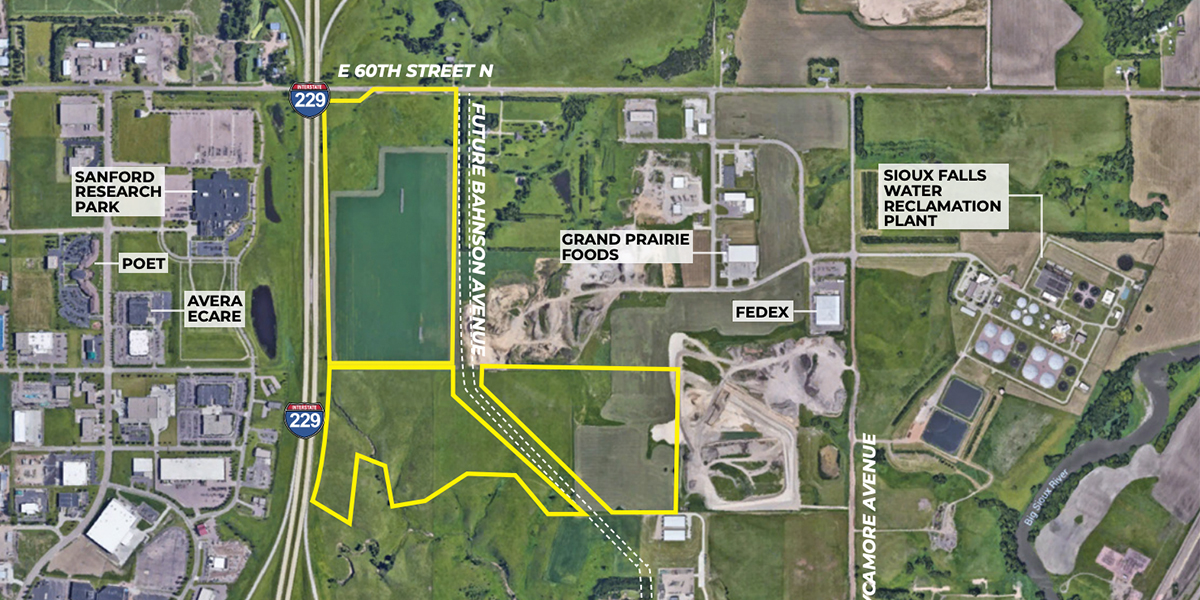 As we get closer to spring, we will begin to see an abundance of activity in both Foundation Park and Sioux Empire Development Park VIII West. The lifeblood of any industrial park is infrastructure. This includes graded sites, roads, water, sewer, utilities, and fiber connectivity. To keep up with the brisk demand and growth of Sioux Falls its' paramount to stay one step ahead by providing build ready sites.
The Sioux Falls Development Foundation has been in the land development business going back 50 years. Most of that activity has taken place North of downtown and around the airport. As the community continued to grow, the Foundation acquired land on the outskirts of the community. Foundation Park is located at the northwest quadrant of I-29 & I-90, whereas Sioux Empire Development Park VIII is located near 60th Street North just east of I-229.
Foundation Park is the largest industrial park developed by the Foundation to date. In total it includes 900 acres and is served by BNSF rail. In just a handful of years Foundation Park has attracted large tenants in Amazon, FedEx, Lineage Logistics and CJ Foods. In total there has been 375 acres sold to date, which includes nine tenants.
As the southern portion of Foundation Park continues to fill, the primary focus for 2022 will be providing infrastructure north of the tracks. This will include a three phased grading plan that was bid and awarded to Riley Brothers. This mass grading plan will include 1.6 million cubic yards opening 270 acres of build ready sites. There will also be a bid going out to contractors in the spring to provide, roads, water, sewer, utilities, and fiber. All the underground work will be complete by summer/fall of 2022. The roads are planned to be paved in the spring/summer of 2023.
Moving over to the east side of Sioux Falls we have Sioux Empire Development Park VIII West. Most of the land in this industrial park runs adjacent to and east of I-229 between 60th Street North and Benson Road. This large parcel of land represents 152 acres. A mass grading plan was developed and bid last fall with Runge Enterprises being awarded the bid. Grading for this project will begin right away this spring and will be complete by mid-summer. To provide access to all this land the Development Foundation will be installing Bahnson Avenue. This stretch of Bahnson will run north and south from 60th Street North to Benson Road. Bid earlier this year and awarded to Runge Enterprises, paving is scheduled to be wrap-up by October.
Both projects in Foundation Park and Sioux Empire Development Park VIII West represent sizeable investments. However, they represent tracks of land that are becoming more in demand. As the Sioux Falls population has exceeded 200,000 and the MSA creeps closer to 300,000, it's crucial to have larger tracts of land that have the necessary infrastructure and are plug and play build ready. Our pipeline is full, and we expect to see positive growth and more activity in both of these parks in the coming years.