With the change of the weather comes our favorite season: groundbreaking season.
For the nearly seven decades, the Sioux Falls Development Foundation has hosted groundbreakings and helped organizations in our community commemorate new chapters of growth and success.
As 2022 kicked off, we've already held nine groundbreakings. Learn about each project and groundbreaking below!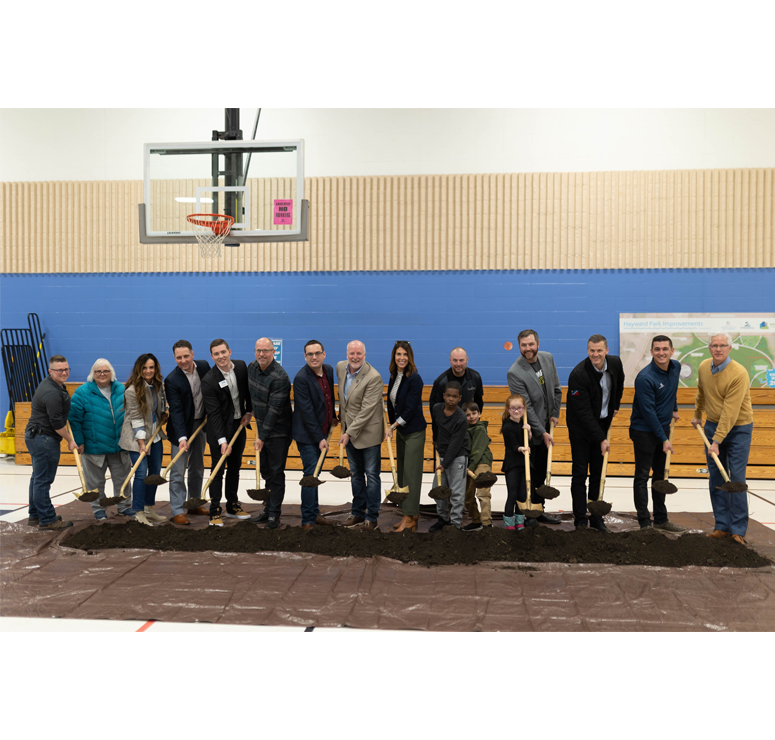 Hayward Park
In March, the City of Sioux Falls broke ground on $2.2 million improvements to Hayward Park near Hayward Elementary School.
L to R: Sara Porter Montgomery, Jan Nicolay, Cynthia Mickelson, Andy Patterson, James Gaspar, Don Kearney, Greg Neitzert, Rick Kiley, Ann Nachtigal, Matt Hart, three Hayward Elementary students, Hayward Principal Derek Maasen, Mayor Paul TenHaken, David Locke, Kurt Loudenback.
Affordable Housing Solutions
In April, Affordable Housing Solutions (AHS) broke ground on six townhome/twin home units on South Sycamore Avenue. Each unit will be sold to an income-eligible buyer that meets the HUD income guidelines of being at or below 80% of the Area Median Income. The entire project is expected to cost $1.6 million, and will be complete by November 2022.
L to R: Kurt Loudenback, Karl Fulmer – AHS Executive Director, Dave Rozenboom, Brent Tucker, Jeff Eckhoff, Dominique Jackson, and Jeff Griffin.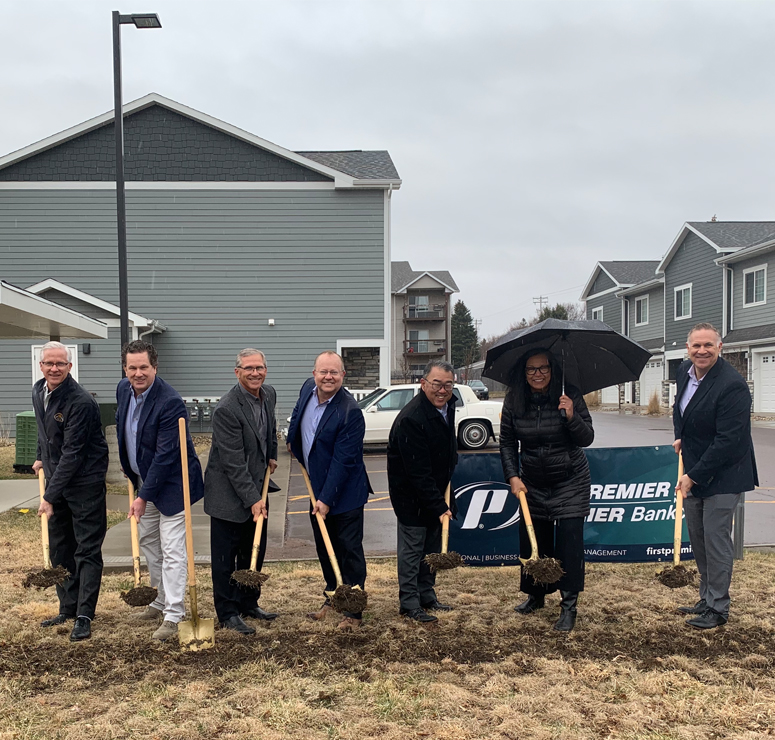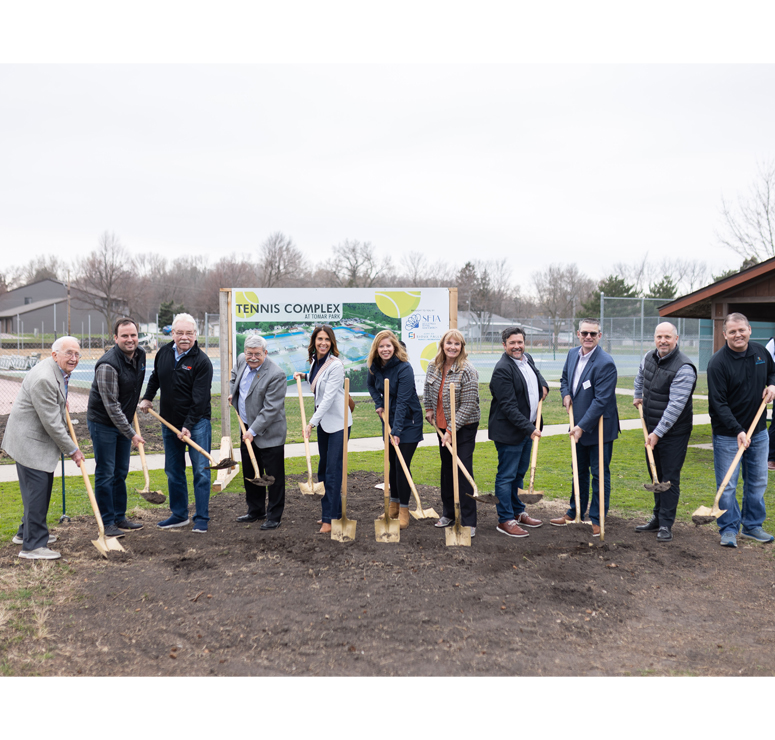 Tomar Park
The City of Sioux Falls and the Sioux Falls Tennis Association broke ground on a $3 million, 12-court tennis complex at Tomar Park.
L to R: Dick Jameson, Alex Jensen, Tom Walsh Sr., Jamie Volin, Ann Nachtigal, Carissa Dice, Lydia Healy – Sioux Falls Tennis Association, Eric Weisser, Steve Kolbeck, Don Kearney, and Tory Miedema.
Banner Associates
Banner Associates broke ground on a 14,000-square foot, two-story building in northwest Sioux Falls. The building will provide space for their professional/technical engineering staff in the Sioux Falls region, with the option for a future building expansion.
L to R: Jeremy Eitreim, Scott Lawrence, James Drew, Pat Starr, Scott Vander Meulen, Brad Wermers – Banner President, Kurt Loudenback, Carol Kervin, Gregg Jorgenson, Dave Lorang, and Mary Johnson.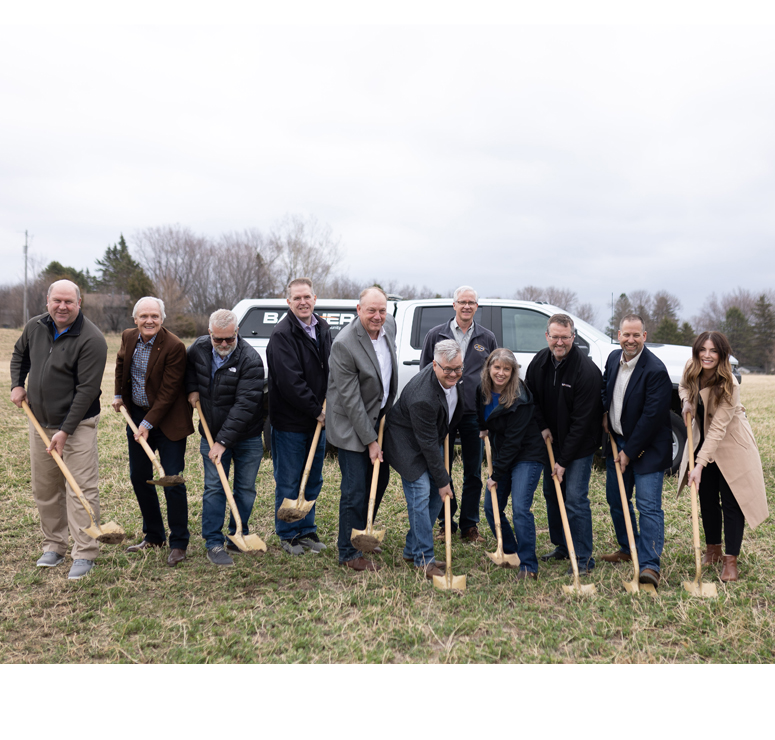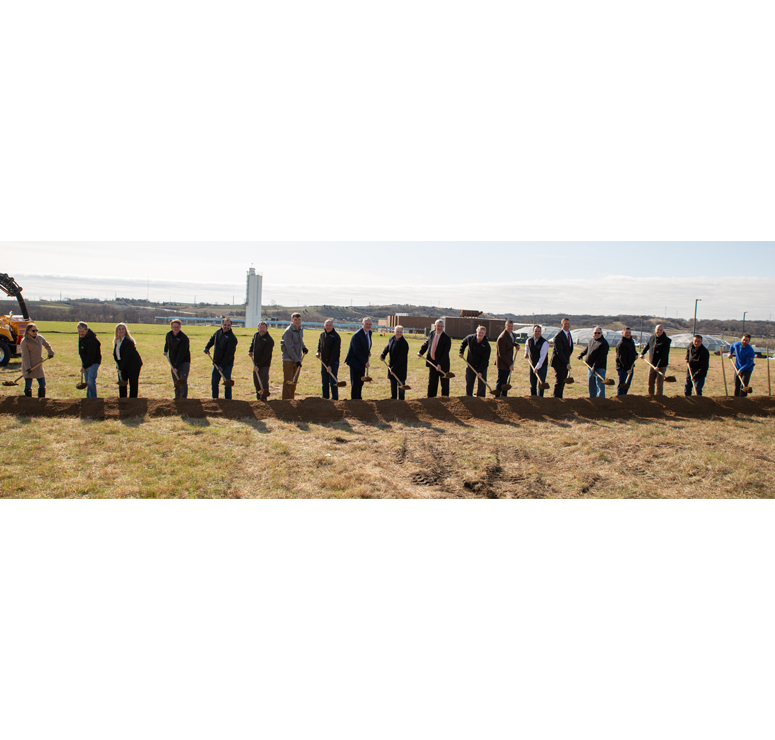 Regional Water Reclamation Facility
The City of Sioux Falls broke ground on the Regional Water Reclamation Plant expansion. It is the first major expansion project since the original facility was built over 40 years ago. These improvements will extend the useful life of the overall system and address growth and economic development for the region over the next 20 years.
L to R: Erin Bofenkamp, Mark Hierholzer, Erica Beck, Allyn Brummel, Shad Hochstein, Tony Schnetter, Shannon VerHey, Mark Perry, Reynold Nesiba, Mark Cotter, Bob Mundt, Joe Van Schepen, Mayor Paul TenHaken, Alex Jensen, DANR Secretary Hunter Roberts, Jeff Warkenthien, Phil Greenwood, James Peterson, Chad Meyer, and Chris Anvik.
Startup Sioux Falls Wallbreaking
The Milwaukee Freight Depot building (affectionately referred to as "The Depot") will be the home base for entrepreneurs and startup founders in Sioux Falls when it opens in Q1 of 2023. Once completed, the building will feature coworking space, conference room space, and a multipurpose space for the startup community. The team at Startup Sioux Falls plans to activate this historic site by building a community of founders and remote workers, hosting regular workshops and programs, and by expanding the reach of their existing resources in this new, more accessible location.
Back L to R: Bob Mundt, Nolan Hazard, Mayor Paul Ten Haken, Allie Hartzler, Steve Watson, Bill Anderson, Mike Lynch, Mike Ridder, and Mark Lukonen.
Middle L to R: Barb Glazier, Peter Hauck, Kayla Huizing, Brienne Maner – Executive Director of Startup Sioux Falls, Jeff Griffin, Amy Moore, Paul Tschetter, Darin Hage
Front L to R: Matt Paulson, Karla Santi, Kayla Eitreim, Keith Severson, Sara Lum, and Jill Mockler.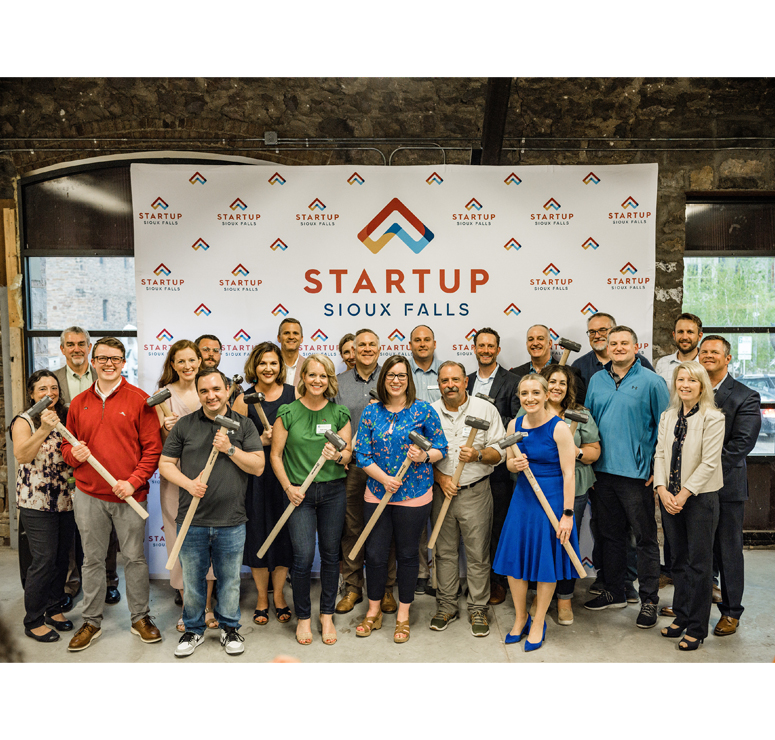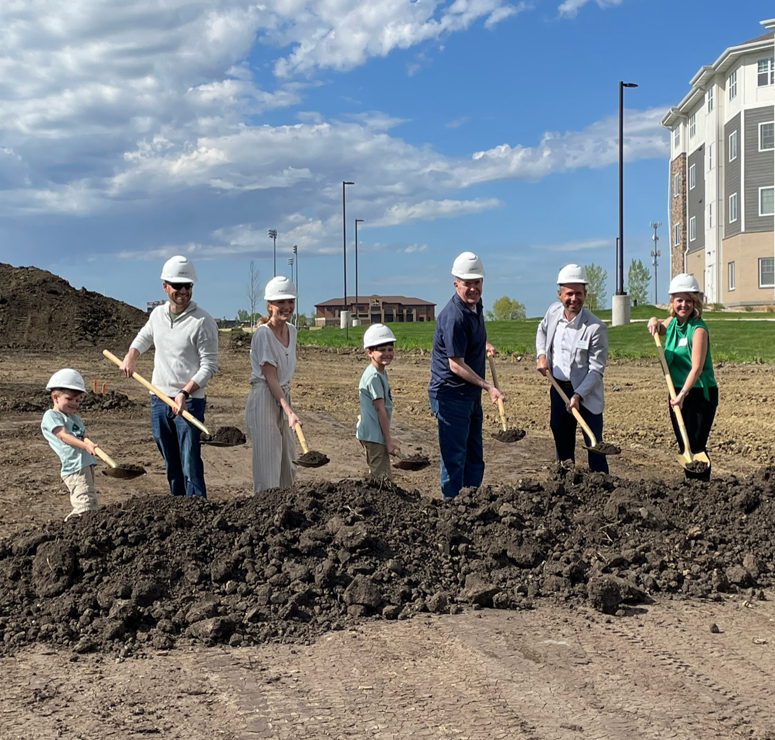 BritZa Performing Arts Studio
BritZa Performing Arts Studio has been a part of the Sioux Falls community for 36 years as a dance studio. As the business continues to grow, so are the offerings. This new location will feature four studios to teach dancing, acting and singing, along with a retail space for guests and students to purchase items for classes. BritZa is looking forward to offering students the opportunity to study these performing arts in one location.
L to R: Elliott Hahn, Austin Hahn, Amanda Hahn, Sylas Hahn, Pat Starr, Jason Herrboldt, and Karla Santi.
Comfort Inn & Suites Sanford Sports Complex
Leaders from Sanford Sports and MinnKota Hospitality broke ground on the new Comfort Inn and Suites at the Sanford Sports Complex.
This 86-room, four-story hotel will be one of the first 'Rise and Shine' prototypes in the country, offering a very contemporary and trendy design, featuring an over-sized swimming pool, meeting space, a beer and wine lounge, and a patio with fire pits.
L to R: Peter Mittelsted, Austin Parks, Scott Lawrence, Steve Young, Emily Linehan, Thomas Squires, Eric Seljeskog – MinnKota Hospitality managing member, Stan Westland, Jeff Eckhoff, Kurt Loudenback, and Ed Ostrom.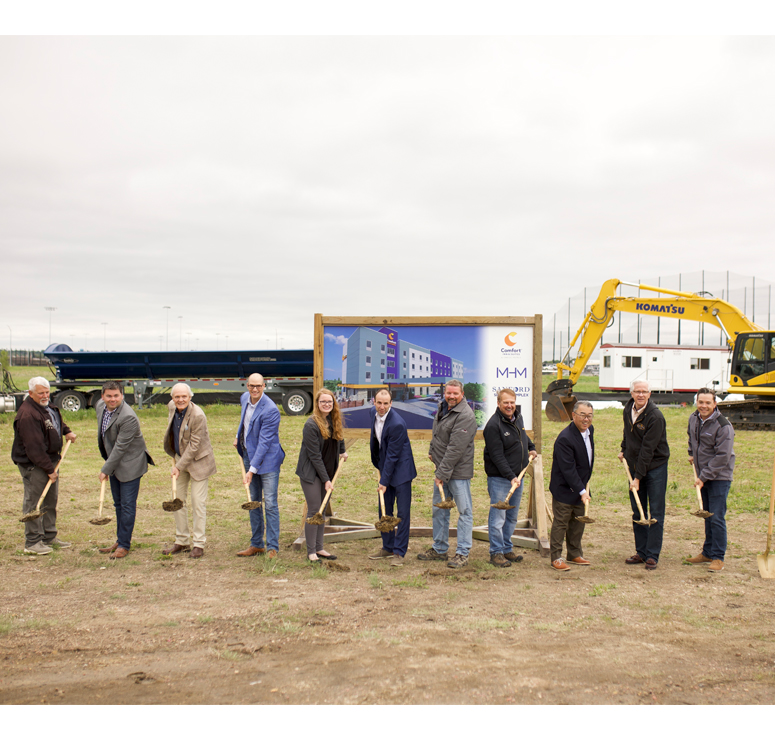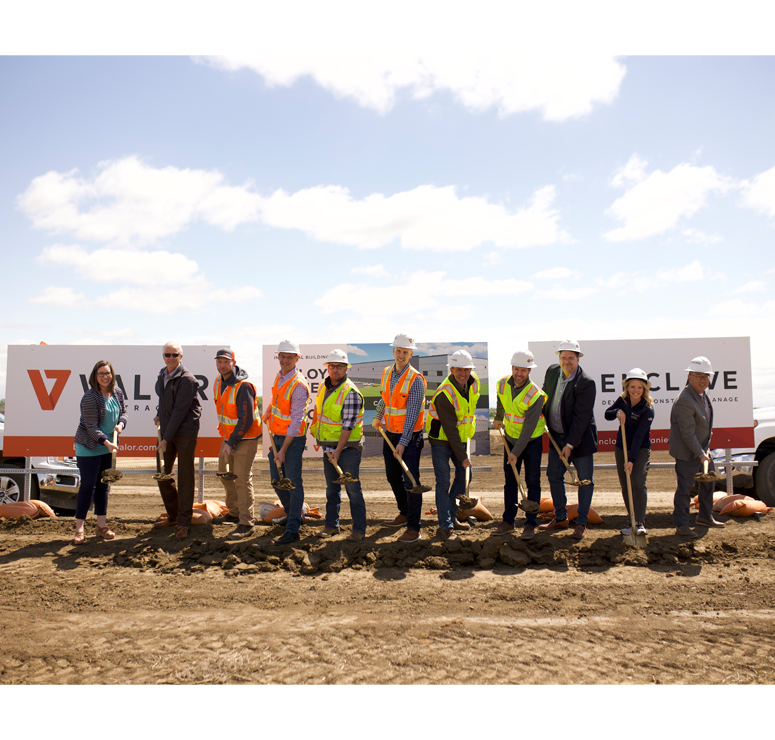 Alloy One and Alloy Two at Griffith Park (Enclave)
Enclave broke ground on their two industrial spec buildings in northern Sioux Falls.
Developed by Enclave and constructed in partnership with Valor Contracting, Alloy One and Alloy Two are two new concrete tilt-up industrial spec buildings located on the north side of Sioux Falls with immediate access to I-90 and I-29. The buildings are part of Enclave's masterplan at Griffith Park situated adjacent to five Aldi-anchored retail lots near Walmart and Starbucks at the corner of North Career Avenue and West 60th Street North.
L to R: Kayla Eitreim, Kurt Loudenback, John Overwise, Jesse South, Jason Thompson, Michael Gullickson, Paul Muscha, Joe Schneider, Brian Bochman – Developer, Enclave, Christina Graalum, and Jeff Eckhoff
Want to Host a groundbreaking?
Over the past six decades, the Development Foundation has hosted hundreds of groundbreakings. If your business is planning an expansion or constructing a new facility in Sioux Falls, contact us to arrange a groundbreaking.
We make it easy for you by providing you with a commemorative mini shovel, bringing the gold shovels for the digging ceremony, inviting media and the business community, and helping you to prepare an agenda for the event.