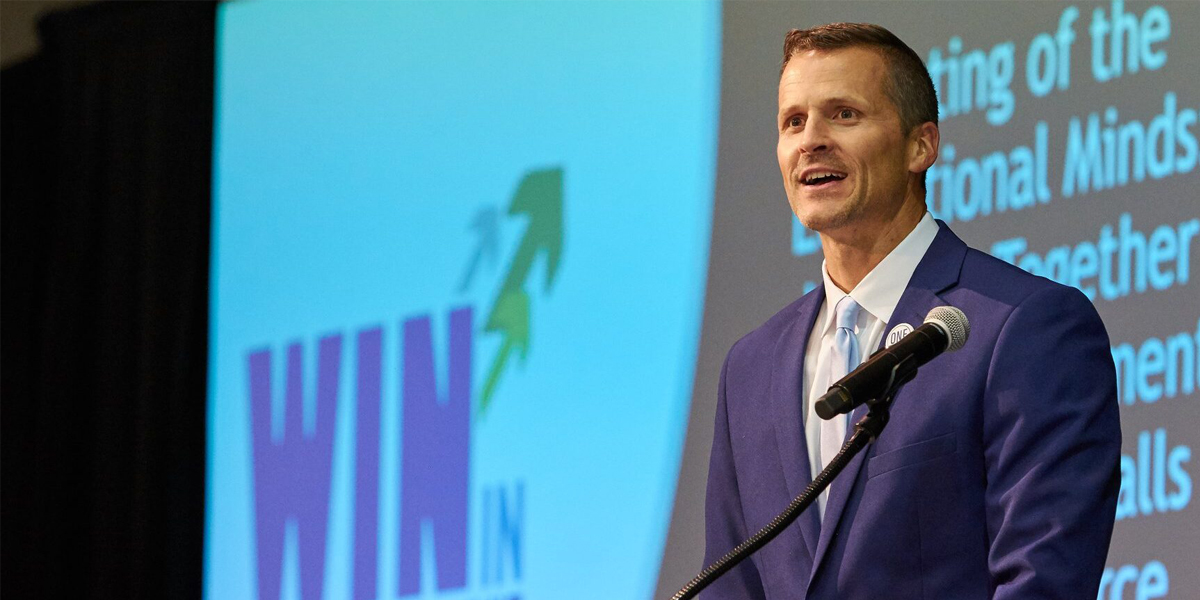 Here's something Mayor Paul TenHaken thinks doesn't gets talked about enough:
"It's the fact that we've had a record number of people move here in the last two to three years, and we also are met with record low unemployment, and those two things don't jive," TenHaken said.
"Why is that?"
That's among the many big questions leaders will ask and begin to help answer at the upcoming annual WIN in Workforce Summit, produced by the Sioux Falls Development Foundation.
The event will be from 9 a.m. to 3 p.m. Nov. 1 at the Sioux Falls Convention Center and will bring together thought leaders such as TenHaken to address the state of workforce development today and tomorrow.
He will help lead off the day on the panel Talent Talk: Get To Know the People Changing Our Workforce Landscape.
"It's great that we have so many jobs available, and Sioux Falls is a great place to live and work, but we have a lot of employers struggling as a result of that. Anything we can do to shine a light I want to do it, and that includes summits like this."
Employers should remember that many people in the record number who moved to Sioux Falls in recent years are still working for employers not based here.
"It's created a new step that needs to happen with workforce," TenHaken said. "It's not just getting people to move here for a job or getting people to move here and then hopefully they work here. We have remote employees here who could become employees for Sioux Falls businesses if they took an intentional approach to connecting with them."
But first, "we also have to realize we're losing people to jobs all over the country that are still in Sioux Falls," he continued.
"They're using the trail system, they're living here and enjoying the quality of life but working for a company out of Denver or Austin or Nashville, and that's very much a thing. I think we can put our heads in the sand and ignore it or realize we have to look at ways to attract people who want to come live here but not necessarily work here. The end goal is let's get them to live here, to keep working for their employer and eventually they want to switch jobs, and they're in our market and have a good chance of filling a local job."
TenHaken also sees workforce issues from the perspective of an employer.
"The city is absolutely not immune from this discussion, so when people ask us about what we're doing in government to help with workforce, it's very personal because we have the same challenge the private sector is having," he said.
"We've tried to keep pace with the private sector in terms of compensation but also offer things like time off to volunteer and help get our employees active in the community."
The city also has invested in office environments and equipment that make it more appealing for employees to be in the workplace and is beginning a marketing campaign next year to highlight itself as an employer of choice.
"We need to do a better job of telling our story and what it means to be a public servant," TenHaken said. "We want to deepen even more what it means to be a public servant in Sioux Falls."
The city offers some work-from-home options "when it makes sense," he added. "It is a tool in our toolbox we can use in the right situations, but there's also just a culture of being accommodating and flexible if you have to come in at 8:30 a.m. because you can't drop your kid off until then."
Despite the workforce challenges, "I'd much rather be in our situation than other communities," TenHaken continued. "We've made the right investments in everything from quality-of-life assets to our police force and the right infrastructure. So if people give Sioux Falls a look, they're hooked for the most part. People fall in love with this community once they're here and even more once they've left and realize what they've left. So one of our biggest focuses is how do we continue to make this a very attractive and viable community."
About the WIN in Workforce Summit
Sessions at the WIN in Workforce Summit are eligible for nine SHRM and HRCI recertification credits. The Sioux Falls Development Foundation is recognized by SHRM to offer professional development credits for SHRM-CP® or SHRM-SCP® recertification activities.
Space is limited for this transformative event, so register soon here to reserve your seat.