Back
Talent
Intern-focused events help connect college students with full Sioux Falls experience
The best internship experiences don't start and end with the workday.
"It's key that businesses offer real-world, applicable and immersive internship opportunities, and many Sioux Falls organizations do," said Denise Guzzetta, vice president of talent and workforce development for the Sioux Falls Development Foundation.
"But it's just as important that these young professionals are meeting one another, beyond their own workplace, and becoming connected with the broader Sioux Falls area and everything that makes it a wonderful place to start your adult life as well as your career."
This year, the Sioux Falls Development Foundation reached out to interns and workplaces citywide with a summer filled with programming.
It started with a "get to know Sioux Falls" luncheon, continued with a scavenger hunt downtown midsummer and ended with the chance to give back to those in need within the Sioux Falls community by making hygiene bags for residents at the Bishop Dudley Hospitality House.
In between, interns began socializing on their own.
"Meeting new people here in Sioux Falls absolutely helped improve my internship experience here in Sioux Falls," said Sawyer Lee, an intern at Dacotah Bank.
"They recommended different activities that go on around town, as well as different places to go eat. I was able to connect with some people from college, and we would get together during the week, whether it be for a drink or to watch bands playing at the Levitt."
Universal banking intern Leah Barber enjoyed a comprehensive introduction to the city through her work with First Bank & Trust.
She was able to tour The Steel District construction site with developer Craig Lloyd, meet with clients and attend events such as the South Dakota Bankers Association Convention, SME Sioux Falls Leadership Summit and SDBA Ag Credit Conference.
"Sioux Falls has the most supportive and exciting community to experience the professional world as it continues to expand and attract exceptional talent," she said. "I am wildly grateful to everyone that has played a part in making my internship a success."
First Premier Bank/Premier Bankcard intern Josh Jackson, a Lincoln High School graduate and Purdue University sophomore, received a Spirit of Sioux Falls scholarship from the Sioux Falls Development Foundation and participated in its Lunch & Learn programs.
"It was a great experience getting to meet other interns and professionals in the Sioux Falls area and learning about some of the community's opportunities," he said. "I am extremely grateful for the opportunities that the scholarship has afforded me in my academic journey."
For Henry Rollins, who originally is from Honduras, an internship at Northwestern Mutual introduced him to the financial services industry. The programming he attended through the Sioux Falls Development Foundation helped the Augustana University student connect further to the community.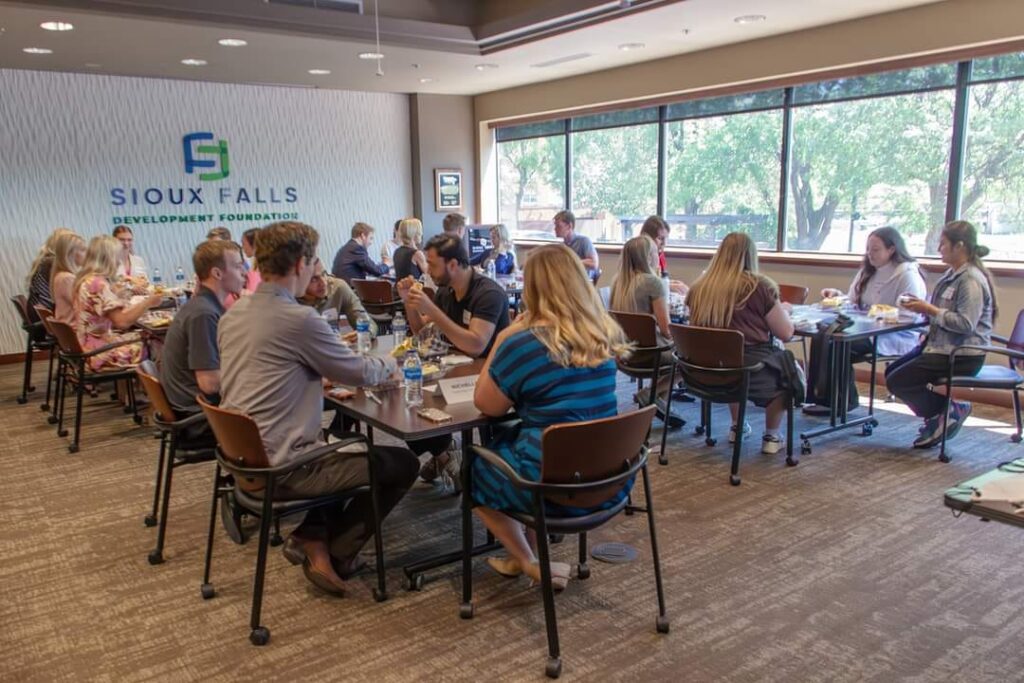 "The events were informational, interactive and one of the best opportunities out there to network," he said.
"I was able to better understand the phrase 'your network is your net worth' as the Development Foundation focuses on helping professionals reach their next best opportunity by exposing them to an extensive network of contacts in every industry."
As an employer, Northwestern Mutual also sees significant value in how the Development Foundation's programming complements its own, said Regan Dennis, director of campus recruitment and development.
"A vital part of being successful as an intern in our program is caring about people and connecting with others in the community to provide the most impact," she said.
"It is important to us to introduce amazing opportunities like the Sioux Falls Development Foundation to our interns because it gives them the opportunity to participate in networking events, help grow their soft skills, learn more about the community and meet other successful individuals in the Sioux Falls area. You never know where a connection could lead you or help you in your future career path."
Northwestern hosted 19 interns this summer and sees the Development Foundation programming as "a phenomenal tool" to showcase the benefits of starting a career in Sioux Falls, Dennis added.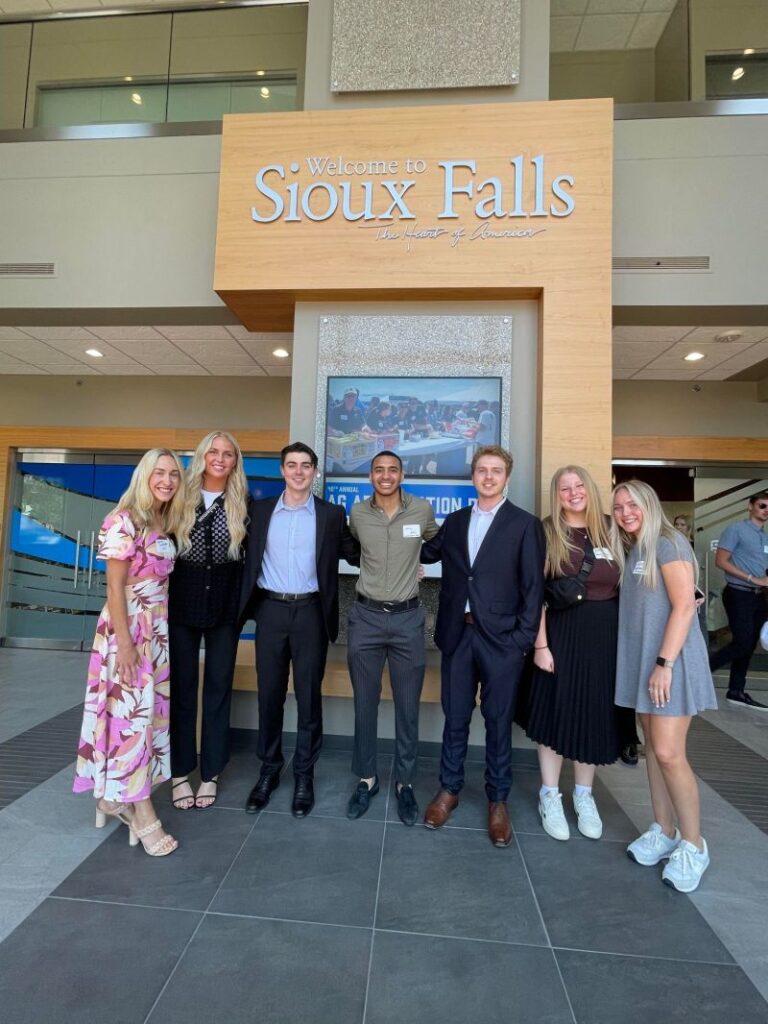 "Our interns have nothing but good things to say about the Sioux Falls Development Foundation program," she said.
"They are eager to meet new people across the community and learn more about how they can become more involved. Most of our college students don't have much experience within this space when joining our internship program, and this gives them the opportunity to step out of the comfort zone and grow as young professionals. When attending new events, they have mentioned it puts them a lot more at ease when we encourage our interns to go as a group or with a friend."
Rollins plans to continue an internship during the school year with a financial adviser's personal team.
"This internship has helped me shape my future by giving me a better picture of the magnitude of impact I want to create in other people's lives with skills I possess," he said.
Jackson will be back at Premier too.
"I've learned a ton about how a call center operates and how efficiency is maintained regarding staffing levels. I've also met a lot of really great people here who have been extremely impactful on my experience," he said. "My Premier internship has helped me realize that I can perform well in a leadership position. I want to take on a more influential role in whatever company I land at."
Based on the success of INTERN Sioux Falls this summer, Guzzetta anticipates opportunities for it to grow.
"We're continually seeing more employers and more interns attracted by the programming we offer, so we absolutely see this as a key way going forward to make sure we're helping interns build the connections and have the experiences that will keep them coming back to Sioux Falls when it's time to take that next career step," she said.
Is your organization ready to get connected with all the workforce opportunities offered by the Sioux Falls Development Foundation? Email deniseg@siouxfalls.com to learn more.