Back
Economic Development
Foundation Park attracts continued interest as businesses keep opening
The most recent major project to locate at Foundation Park is hiring – and other businesses could be following.
FedEx Ground opened its 340,000-square-foot distribution center in the northwest Sioux Falls development park last fall and employs a mix of full- and part-time team members.
The operation also contracts for package pickup and delivery services with local service provider businesses that hire locally for driver, helper, manager and other positions.
"The site was chosen because of its ease of access to major highways, proximity to customers' distribution centers and a strong local community workforce for recruiting employees," said Dana Hardek, an external senior communications specialist for FedEx Ground.
FedEx is the tenant for the building, which was developed by Indianapolis-based Scannell Properties.
"As one of the largest industrial developers in the country, Scannell Properties is accustomed to working with a wide array of land sellers and municipalities. In the case of this project, we could not have asked for a better pairing," said Tom McCary, director of development for Scannell.
"It was a privilege to work with both the city of Sioux Falls and the Sioux Falls Development Foundation; both were instrumental in getting this project approved and completed on such a fast timetable. We sincerely hope to have more projects in Sioux Falls in the future."
The FedEx project is an example of the type of business the Sioux Falls Development Foundation envisioned at Foundation Park when it was developed in 2016, president and CEO Bob Mundt said.
"Our two targets going into this were large warehousing and distribution facilities along with manufacturing, which will be out there shortly," he said. "To offer a first-class employer like FedEx a place to expand in Sioux Falls, hire more people and provide competitive positions with excellent long-term career prospects is exactly what we're trying to achieve with this park."
FedEx Ground is hiring in the Sioux Falls area for package handler positions.
In addition to competitive wages and a flexible schedule, the company's benefits include medical, dental, vision, paid time off and parental leave, as well as tuition reimbursement after a minimum threshold of service.
To learn more, visit fedexgroundjobs.com and search "Sioux Falls."
Tessier's Inc. also is settling into its new location at Foundation Park.
The Mitchell-based mechanical contractor and metal fabrication company built a 42,000-square-foot office and shop complex on a 5-acre parcel.
Tessier's provides heating, ventilating, air conditioning and environmental control services.
"It's working very well," president Rashid Kadir said. "The location is very good. To be part of the massive buildings around us is a wonderful feeling. It's easy access to I-29, easy access to I-90, and everything is as expected or better."
He estimates 60 people work at the new location, including the office and shop, with 80 in the overall Sioux Falls area. To learn more about openings, click here.
"And we are desperately in need of more workforce, both professional and field service. You name it, we need it," Kadir said. "The majority of those would work out of this building. To have something new and exciting like this to offer them is just amazing. I think other businesses also would appreciate the location."
Muth Electric and Muth Technology also will be under construction at Foundation Park yet this year on their new Sioux Falls location, Mundt said.
"And we continue to see interest from others in distribution and light manufacturing on our remaining lots on the south portion of the park," he said. "We have multiple sites with rail remaining, and we're looking at all our remaining land on the south end to ensure we're focused in on its current highest and best use."
The Development Foundation also is working on developing the north side of the park, making it a build-ready site.
"We're roughing in roads and will have hard-surface roads there next year," Mundt said.
That's where CJ Foods is moving forward and likely will break ground on its Asian food production facility yet this year, Mundt said.
"We're actively working with CJ, and they're designing the facility now to make sure they can accommodate their growth and expansion," he said.
The Development Foundation also continues to work with future prospects, he said.
"They're a little more conservative right now with interest rates and inflation and uncertainty in the market, so they're stepping back and really taking a look at projects to make sure they can get them in on budget, so it's taking more time to make decisions, but we still are working through the process with multiple prospects."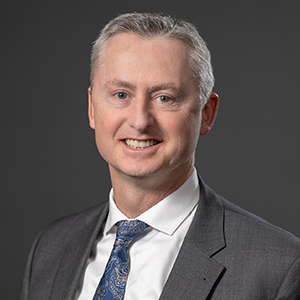 To find your newest location, contact:
Dean Dziedzic
Vice President of Economic Development