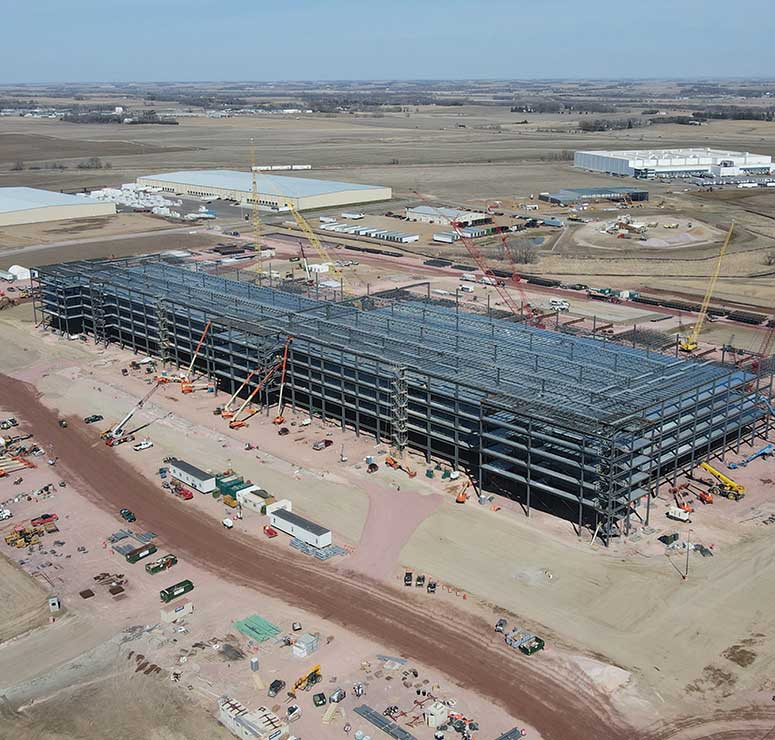 The momentum at Foundation Park continues as represented by the following activities.
Foundation Court – The second phase of Foundation Court will complete the loop back to Marion Road. The project represents infrastructure of water, sewer, paving and lighting. It also opens the final phases of Foundation Park South with additional build-ready sites. The project is on track to be completed by the end of August this year.
Amazon – If you are anywhere near the northwest part of Sioux Falls, you certainly will see Amazon's distribution center breaking the skyline. It seems this enormous building is being erected in record time, with several hundred local contractors on site.
Marion Road – Due to the Amazon facility, the City of Sioux Falls is currently making improvements to Marion Road. This will include additional turning lanes and signalization. As Marion continues north, the City is planning more improvements to Marion Road that will extend all the way to 258th Street.
Win Chill – Foundation Park's anchor tenant continues to grow and expand. Their current expansion will add an additional 125,000 square feet of cold storage warehousing and represents their third phase since breaking ground on 54 acres in May of 2017.
Grading – It seems this is a never-ending task at Foundation Park. If you are out near the Park you will notice continuous grading. The grading will open more land for sale and potentially new tenants soon.
CJ Foods/Schwans – Engineering and site plans for this 700,000 square foot facility on 140 acres continue to move forward. This project will require infrastructure to be installed north of the railroad tracks. In the coming 12-24 months expect to see roads, water, sewer, utilities, fiber and again plenty of grading taking place.
Pipeline – We remain extremely pleased with the level of prospect activity and inquiries received with interest in Foundation Park. We would not be surprised to see more announcements as we enter spring and summer this year.