Back
Talent
Former Californian now helps build Sioux Falls skyline thanks to opportune move
There were four states on the list of possible moves: South Carolina, Tennessee, Florida — and South Dakota?
"It's kind of funny," California native Brock Williams acknowledges. "We'd never thought about South Dakota."
But that changed in 2020, when he and his wife, Sabrina, started looking to move outside of his home state.
"She's originally from the North Carolina-Virginia area, and my family is spread out," he said. "We were already thinking about moving away from California, then 2020 happened. Once we went through that, we thought, what's really holding us back?"
And, because of the national attention South Dakota received during the pandemic, the couple's interest in the state grew.
"We started researching, and once you do, it opens up this path to the Midwest," Williams said. "We started learning more about the Midwest and realized if we were going to make the move, Sioux Falls was the place to be."
With two decades of experience in the construction industry, both residential and commercial, he began seeking a new role to fit with his project management background.
"I got an offer in South Carolina, an offer in Florida, and they just didn't feel right," he said. "The companies didn't feel right, the area didn't feel right, and then I got a call back from Journey Construction."
After his first interview with Journey, it felt right.
"Journey, in a sense, grew up with Sioux Falls, and I appreciated the history they had and felt a good connection," he said. "But still, when they gave me the offer, I was a little nervous because I wasn't sure how the area was going to grow."
But that nervousness didn't last long. He soon learned Journey would oversee the large expansion of Cherapa Place in downtown Sioux Falls, which includes a 10-story office and condominium tower, two buildings of retail and apartments, a parking ramp and central courtyard.
He joined the team as a project manager in late 2021.
"Being from California, I was part of some larger projects, and I've never backed down from one, so I wanted to be on Cherapa, and that's what happened," he said.
"The project has been going great. The other two project managers on the Cherapa project, Joe Niewohner and Jesse Davey, have both been on the project since the beginning with me and have been a huge help in familiarizing me with the new-construction market and learning about South Dakota. The entire Cherapa team has been very welcoming and accepting of me."
His employer also has fulfilled the promise he saw in that initial interview.
"Journey really does stand by their values and ethics," Williams said. "Where I come from in California, it's a real cutthroat environment, but because of how we do business here, I've built stronger business relationships in the last two years than I did in 15 years in California. It's pretty crazy – yet refreshing."
Sabrina Williams has found a job she enjoys too, putting her health care background to work at Delta Dental.
"It allows her to work from home, and she absolutely loves it," Williams said. "It's a great company, and she loves working for them. We've gotten really lucky with the work environment and finding great employers here."
It's more than luck, said Denise Guzzetta, vice president of talent and workforce development for the Sioux Falls Development Foundation.
"Brock and Sabrina's experience is exactly what so many others discover as they explore their career options in Sioux Falls," she said.
"This community is filled with employers who reflect your values and respect your needs and the role you play in contributing to our shared success. Construction and health care are two fields in particular where we have so many opportunities as a growing community to welcome newcomers ready to grow their careers."
The family has happily moved into an east-side home near Harmodon Park, where despite Williams working in downtown Sioux Falls, his commute is 10 minutes.
"I still have friends from California, and when I tell them I get off work at 5:30 and am home by 5:40, they're like, 'You're kidding me," he said. "Back home, I commuted an hour and a half to two hours each way. After doing the math, I realized how much of my life I was spending in my car."
With their newfound free time, the couple enjoys taking their Labrador retriever out for walks on the vast Sioux Falls trail system and hiking at state parks.
"We're really big on fishing, we like to kayak, and then, in the winter, we try to go snowshoeing while we can, so we're embracing it full force," Williams said. "Before moving, I'd never really gotten into hunting. But the state has a program for people who are new, which one of my co-workers introduced me to, so I'm hooked on pheasant and deer hunting now."
Looking back, "I'm really glad we left," he said. "We go back and visit, but once you live in a place like this and then revisit the hustle and craziness in the bigger city, it's very noticeable, but coming back always gives you a chance to decompress."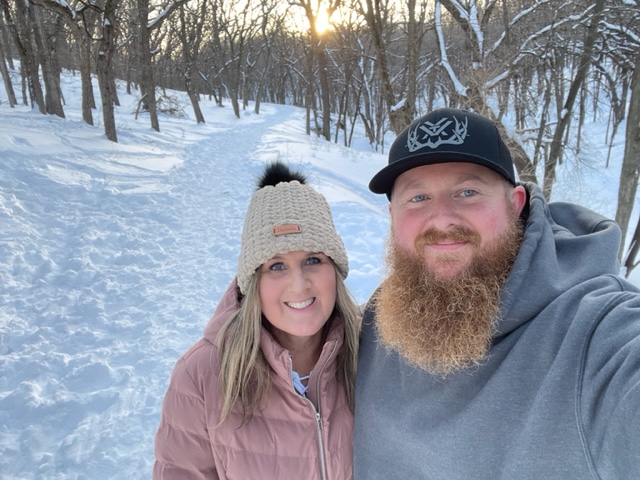 In the coming months, Cherapa Place will begin moving in its new office tenants. Early next year, the building Williams is overseeing will move in its first residents. For someone new to the community, helping immediately impact its skyline has left a big impression.
"I think Sioux Falls is just a great place to live, and these projects are going to turn Sioux Falls into an even better place," Williams said. "I think it's moving in a great direction, the leadership this city has is phenomenal, and I think we have a bright future in Sioux Falls."
Are you ready to continue your career journey in Sioux Falls? Email deniseg@siouxfalls.com to get connected, or visit siouxfalls.com to learn more.