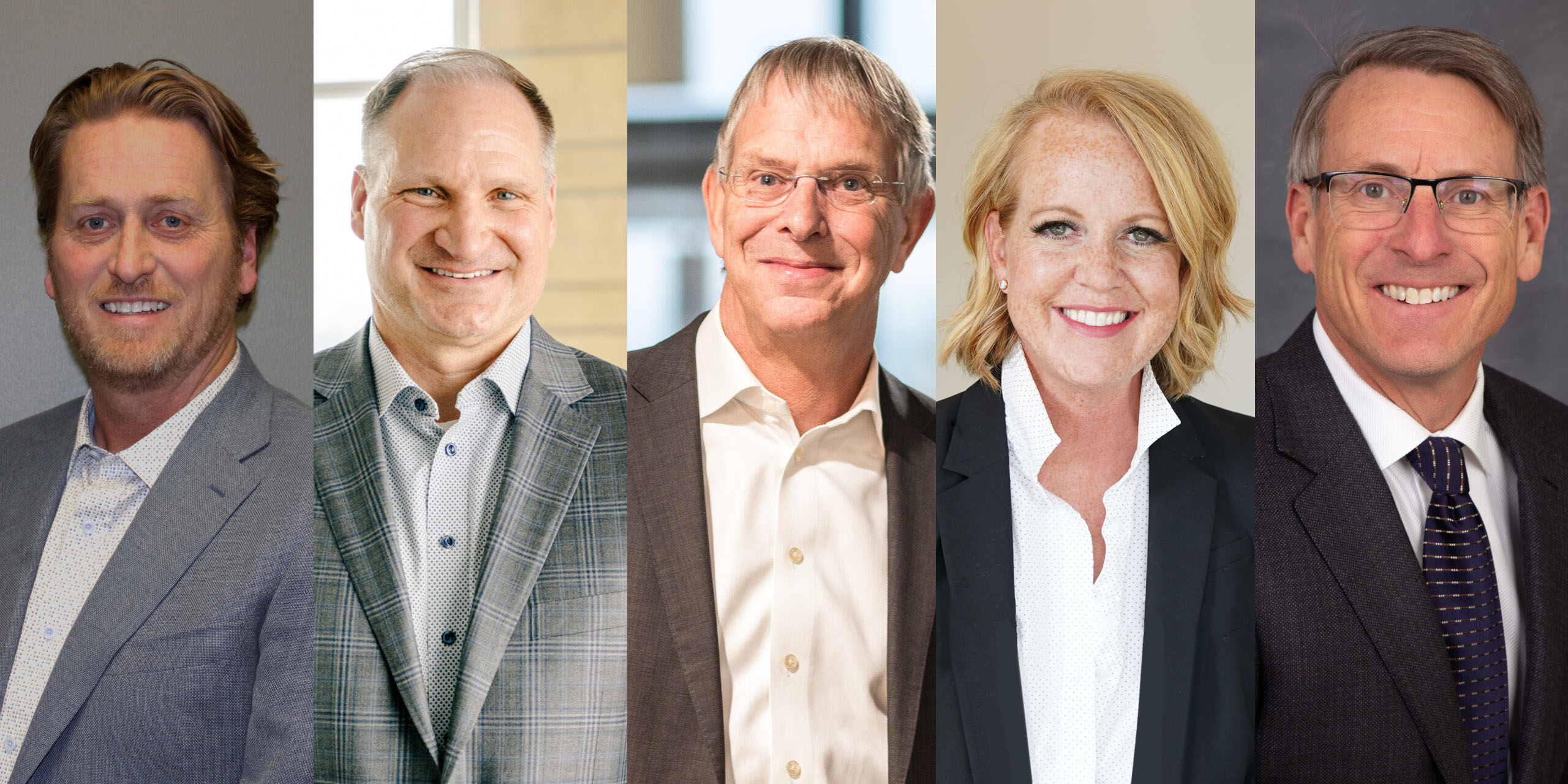 The Sioux Falls Development Foundation added five local business leaders to the organization's board of directors. Elected through a vote of the membership, board members began their terms of service on January 1, 2022.
Newly elected members are Clint Ackerman, Signature Companies, Randy Knecht, Journey Group, Dave Link, Dakota State University, Karla Santi, Blend Interactive and Al Spencer, Parks Ltd.
Ackerman is the owner of Signature Companies LLC, a diversified company involved with land development and the construction of single-family homes, condominiums, townhouses, villas, office buildings, and multifamily commu­nities. Since the company began in 1997, he has guided the construction and development of over 5,000 units. Signature Companies LLC has developed over 2000 acres of property. Ackerman is a licensed South Dakota real estate broker.
Knecht has been involved in the construction industry for more than 25 years, joining Journey Group in 1994. Serving as President & CEO, he leads an outstanding group of dedicated and talented construction professionals. Duties also include developing and maintaining client relationships and overseeing overall corporate risk strategy. Prior to being appointed President and CEO, Randy served as CFO from 1994 – 2010.
Link has more than three decades of experience in strategy, planning and financial operations, previously serving as senior executive vice president and chief strategy officer for Sanford Health. He served in numerous leadership positions and launched the Sanford Initiatives—a series of innovative global health care concepts. He oversaw Sanford Health Plan, Sanford Foundation and Sanford Research. Under his leadership, the initial Sanford Clinic was created as well as the development of Sanford World Clinics. Currently, Link serves as an appointed program director in the President's Office at Dakota State University. In this role, he leads the strategy, development, operational and financial plans for the DSU Rising Initiative encompassing the development of a new research and development programs and facilities.
Santi is CEO and founding partner of Blend Interactive, a firm that guides teams through complicated web and content problems. She is an active member of the business community, currently serving on the board of directors for Startup Sioux Falls, where she aims to meet the changing needs of the entrepreneurial community. Santi has served on the Greater Sioux Falls Chamber of Commerce Board of Directors and the Chamber's Business Leadership Council. An active mentor in our community, she strives to encourage young women to explore STEM programs and pursue careers in technology.
Spencer's journey of business ownership spans 35 years, but he is most proud to have owned and operated Dakotaland Homes, the region's premier sales center for manufactured homes. Not only is he a proud business owner, but he's also helped to pass laws or fight against legislation that would have negative impacts on the industry or consumers in South Dakota. In addition, he's volunteered with numerous state and national trade organizations, as well as non-profits in the Sioux Falls community.