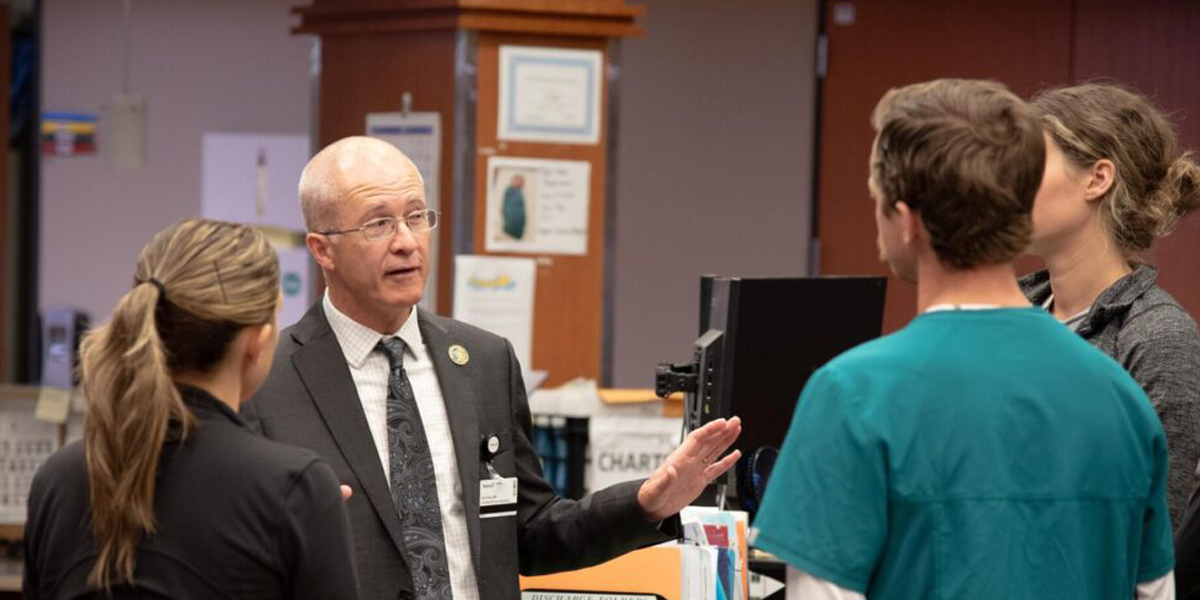 Despite a workforce of more than 20,000, every team at Avera Health essentially comes together in the same way every day.
It's called Daily Line-Up, a daily huddle with a central topic, a question to get people talking and a daily prayer to provide a moment of fellowship.
"It's a chance to come together, communicate and be reminded of our shared mission," said Julie Lautt, interim CEO and chief financial officer. "But even traditions like these are being reimagined by hybrid departments as they look for new ways to engage both remote and in-office employees in these conversations."
The simple practice – and how it's evolving – captures the spirit of workforce development today. It's a blend of lifting up best practices while acknowledging even they often must evolve with the workplace's changing landscape.
"Health care can be very hard work," said Dr. Ron Place, who became CEO of Avera McKennan Hospital & University Health Center earlier this year. "We saw during COVID, locally and nationally, some people with long-term careers in health care chose to leave the profession. We need to think innovatively to support our workforce and harness technology to extend our workforce, especially in rural areas."
Both Lautt and Place will share some of Avera's strategies at the upcoming WIN in Workforce Summit, produced by the Sioux Falls Development Foundation. The event will be from 9 a.m. to 3 p.m. Nov. 1 at the Sioux Falls Convention Center, featuring speakers from a range of industries.
For Avera, those strategies are a long list that starts with the system's mission.
"We hope to show just how important it is to fully walk the walk when it comes to our people being the vital piece of our organization they truly are, as well as how we strive to live and breathe our mission every day," Place said.
Other approaches Avera plans to share include:
The streamlining of HR processes, from simplified interview scheduling to reducing barriers for job applicants.
Working with education partners on creative ways to fill critical needs.
The creation of an internal staffing organization aimed at filling jobs and improving retention, with opportunities to place both temporary workers and traveling nurses.
Avera leadership also plans to address communitywide issues impacting workforce, including affordable housing, transportation and building bridges for new American, immigrant and refugee populations to access career opportunities.
"I see that new doors are opening all the time in working with our diverse populations, but that's an area of challenge," Place said. "At Avera, we want to be the employer of choice for diverse populations."
At the WIN Summit, Lautt will be part of the opening session titled Talent Talk: Meet the People Changing Our Workforce Landscape.
"Leading in health care takes innovative thinking. Avera also has a unique approach because of our dedication to rural health and workforce," she said. "We had the foresight to raise our minimum wage to $17 per hour and to improve benefits, despite national health systems shifting in the other direction. We could see this people-centered industry needed a workforce investment, and it's that kind of thinking that has made Avera a leader for over a century."
It also has helped with retention. Avera has more than 1,300 employees who have been part of the organization for at least 25 years, and many spend entire careers there.
"We will have critical workforce areas we are focusing on for the future," Lautt said, adding some of the strategies being brought forward include streamlining the hiring process and partnering with university and technical schools to ensure students choose and understand areas of opportunity.
"Leaders will need to focus both on culture-building of people in the office with them and for remote employees," she added. "This will take fresh ideas and a continual focus to keep remote employees engaged with a mission that will need to stretch beyond our facilities."
Place will be part of a panel called New Leaders, New Rules, New Culture that will allow him to share the leadership philosophy he brought to Avera McKennan.
"I challenge my leaders to build, sustain and know their high performers and foster individual development," he said. "It's important to empower employees to encourage creativity. Strong leaders give credit for success, yet they take on responsibility and ensure accountability for failure."
They also underpromise and overdeliver, he added.
"Outcomes matter. While our intentions are important, it is our actions that are critical," Place said. "I encourage my leaders to challenge assumptions. Things don't have to be the way they've always been, and, in fact, it's impossible to keep everything the same and continue to experience success and sustainability. It's why standardization and innovation are both key."
About the WIN in Workforce Summit
Sessions at the WIN in Workforce Summit are eligible for nine SHRM and HRCI recertification credits. The Sioux Falls Development Foundation is recognized by SHRM to offer professional development credits for SHRM-CP® or SHRM-SCP® recertification activities.
Space is limited for this transformative event, so register soon here to reserve your seat.