Back
Economic Development
Northeast development park that's nearly full starts on expansion
A development park in northeast Sioux Falls that has filled up with new businesses this year is going to grow from 100 to nearly 280 acres.
Park VIII is located between Benson Road and 60th Street North, Interstate 229 and Sycamore Avenue. It dates back to the mid-2000s but initially was slow to gain traction, in part because of limited access. That's changing.
"60th Street North now connects to Veterans Parkway, which also now connects to Interstate 90, so that's been key," said Dean Dziedzic, vice president of economic development for the Sioux Falls Development Foundation. "It already has easy access and visibility to Interstate 229, and now with our next phase, we're building out Bahnson Avenue, which I think will mean the land will sell quickly. And it's a supply-and-demand situation. We just do not see large nonrail sites on the market."
To put the demand in perspective, of the 625 acres in the foundation's inventory, 160 acres are shovel-ready. Of that, 100 acres sit along rail lines.
Businesses looking for nonrail, noncontiguous sites can look at smaller lots ranging from 2 to 18 acres – but that's it. In Park VIII there currently are 16 acres available with a couple of deals in process for small parcels.
"As a community, we don't have a lot in nonrail industrial sites, so the investment into Park VIII will bring roughly 180 acres of contiguous nonrail lots online," said Mike Gray, the foundation's director of business expansion and retention.
One reason for the expansion is the strong interest Park VIII has drawn within the past year.
B&F Fastener Supply, which is based in Minnesota and began its Sioux Falls office in 2008, moved into a new 26,000-square-foot building in Park VIII in July.
The family-owned business is an industrial supply wholesale distributor that specializes in fasteners but can provide many industrial-related products to Sioux Falls and the surrounding area.
"We started with zero customers here. We literally just took a chance, and 2008 was a very challenging time to do that, so kudos to the family for being willing and able to take a risk because it's really worked out," said Ryan Shaw, B&F's executive vice president of sales.
"Sioux Falls has been a fantastic market, and the team there is showing no sign of slowing down. They're doing great things, and they've had tremendous growth."
The move to Park VIII is the company's third office since opening in the market. It primarily consists of warehouse space, with some office, and will include about a dozen employees in a combination of sales, customer service and warehouse roles.
"We saw the land as a developing area, and we look for industrial parks with like-minded companies to fit into," Shaw said. "We feel it's a good fit. We'd outgrown our previous location, and this will help fuel our future growth."
The B&F Fastener team calls the new location "a castle," he joked.
"They love it. There were real space restrictions previously because of our growth and the former location's layout, so this is phenomenal," he said. "There's space to breathe and grow and get our day-to-day operations done more efficiently. It's especially nice as our team has been barraged with other challenges and continues to navigate them well. We're just really thankful for them and thankful this location came together for them and for our company as we continue to grow in Sioux Falls."
Other growing companies also have been buying land and existing buildings at Park VIII.
Grand Prairie Foods acquired a 50,000-square-foot warehouse and office building earlier this year to support its growing breakfast sandwich business line and position it for future growth.
For 18 months prior, the company had been hauling inventory back and forth to a warehouse in Sioux City, "so it's a nice fit for our business to be able to consolidate a lot of food inventory in one location," CEO Kurt Loudenback said in announcing the move in early 2021.
The extra land could be used if the company decides to expand production at some point, he added.
Other newcomers to Park VIII include an expansion for a Sioux Falls wholesale provider of winter apparel and a California-based light manufacturer.
The expansion will include building Bahnson Avenue from Benson Road near the Sioux Falls Area Humane Society north to 60th Street North. The plan is to begin grading the 180-acre expansion as soon as the ground thaws in the spring, to be done by July 2022. Other infrastructure work is going to be bid late this year or early next, with the goal of finishing the road work by October 2022.
"These are predominantly going to be large lots, but there will be a lot of flexibility," Gray said. "We're looking to target large users, 40 to 60 acres, but there is still opportunity to subdivide."
While the property is zoned for heavy industrial, warehousing, distribution and advanced manufacturing, "it's also a gateway to the community," Gray continued.
"Sanford Health headquarters and Sanford Research are on the other side of the interstate. So we want to target complementary users. Aesthetically, we want to see some nice-looking buildings. Based on what we're hearing from businesses, we do think there's going to be interest."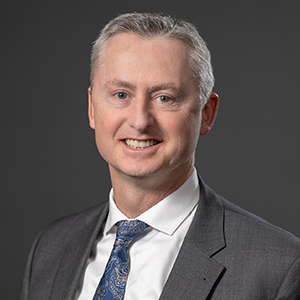 For information on availability in Park VIII or other Sioux Falls development parks, contact:
Dean Dziedzic
Vice President of Economic Development