Back
Talent
Dordt University students take part in Talent Tours at Sioux Falls businesses
Students from Dordt University traveled to Sioux Falls on April 28th to tour different businesses around town. These English majors were "career curious" about the opportunities to which their degree could lead them.
The students arrived in Sioux Falls and received a tour of Lawrence & Schiller, a marketing and advertising agency. There, they learned more about what types of services L&S offers to their clients and how they adapt to the ever-changing trends in the marketing world.
The students then arrived downtown at the Commerce Center for lunch. Shane Tinklenberg, a Software Engineer at Raven Industries, Ella Rynders, the Brand Manager at Fernson Brewing Co., and McKenize Kooima, an Account Services Representative at BPM, are alumni of Dordt University and volunteered their time to speak about their career journeys and what it's like to live and work in Sioux Falls.
After lunch, the students traveled to PREMIER Bankcard where they got an overview of national-level advertising, media strategy/buying, and content development. The students were able to get a better idea of how their English degree could be utilized within the financial industry, something they didn't think was possible.
The final stop of the day was at Click Rain & Lemonly. The students were taken on the grand tour of their new office space and given a rundown of how the two sister companies work together. Their tour guides were Dordt alumni who were able to explain how they utilize their Dordt education in the work world.
The day was a success as the students were given a glimpse of the possibilities in Sioux Falls!
What a wonderful day of exploring careers that will utilize a degree in English! Sometimes students are hesitant to pursue a degree with a broad reach, such as English. This career trek opened our eyes to various roles in a company that can be significantly enhanced by strong writing skills, whether creative writing, or technical writing, or anything in between.

My faculty participant and I particularly enjoyed reconnecting with our alumni. Claire did a fabulous job of finding young alumni to serve on the lunch panel. They were able to share about the value of their Dordt education, why they love living and working in Sioux Falls, and share some valuable advice for transitioning well from college into career.

We are so grateful for the broad reach of the Sioux Falls Development Foundation, which enables them to showcase local employers and opportunities!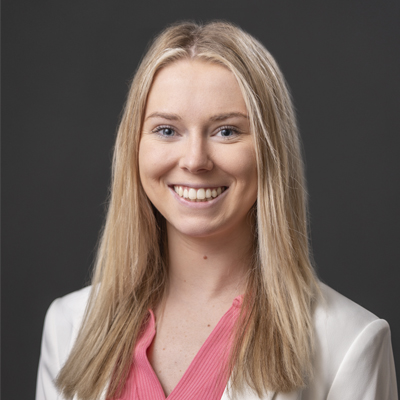 Want to bring your students to Sioux Falls?
Claire Herbst
Talent Recruitment Coordinator, Sioux Falls Development Foundation