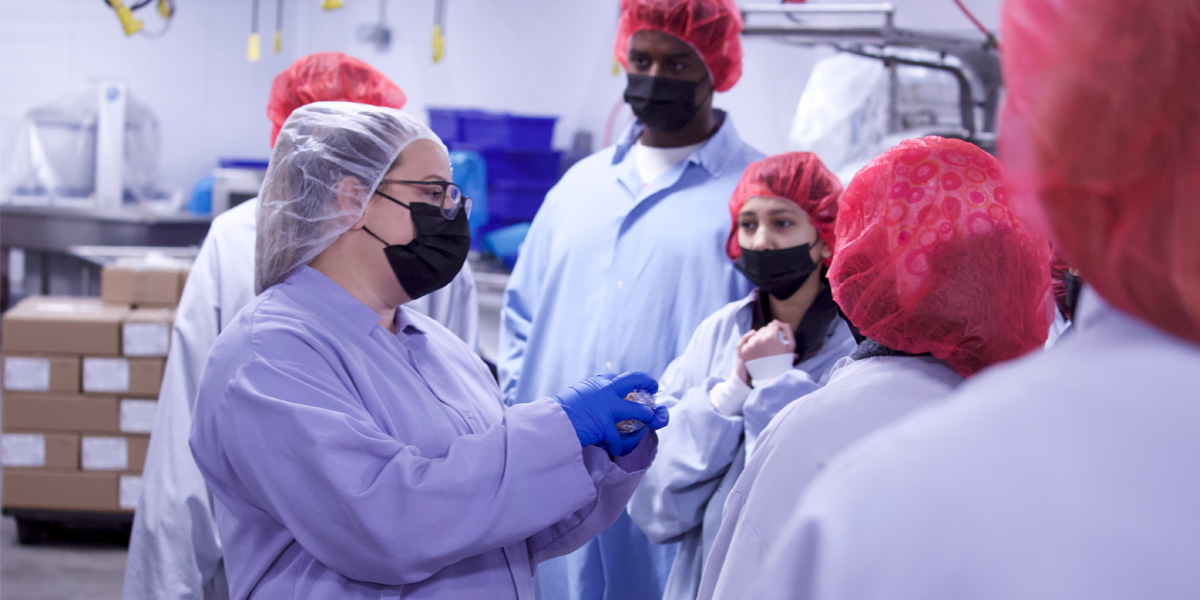 No matter what your industry, there's likely talent waiting to support your business – if you know where to look.
"We understand that workforce is a shared, significant challenge for our business community," said Denise Guzzetta, vice president of talent and workforce development for the Sioux Falls Development Foundation.
"Our approach is to try and turn that challenge into an opportunity as we help businesses find the talent they need now and in the future."
The Sioux Falls Development Foundation takes a multifaceted approach to doing that, beginning before students graduate high school and continuing through their college experience.
Career Connections
When a student is exposed to work opportunities while still in high school, it can make a strong impression that resonates well after graduation.
The Development Foundation launched Career Connections in 2020 as a pilot program. It's designed for the 30 percent of high school students who have little to no post-secondary plans, serving as an introduction to industries and careers within the Sioux Falls region.
Starting with 59 students rotating through five organizations, the program has grown quickly in popularity among educators, businesses and students, reaching more than 400 students who chose among 38 firms in 2021.
"The response has been tremendous from our community. Our partner organizations see the value of investing time and resources to expose them to the career and educational pathways available to them in the Sioux Falls community," Guzzetta said.
One of those partners is Graham Tire, where students learn about opportunities in the auto industry.
"We need workers," president David Mickelson said. "This program has opened the employment pipeline to high schools, which is something we needed to do."
The data behind the program is encouraging. Career Connections has helped 72 percent of high school seniors with post-secondary and employment plans after graduation.
Lincoln High School seniors Abshir Ibrahim, Kishmar Eberline, Aleyda Callejas Cruz, Christina Furula, Alfred Toe and Junior Meselu are some of the many college-bound students thanks to their participation in the Career Connections program.
"Use the opportunities that you get and others wish they had because maybe one day you might give them one," said Cruz, talking about what the Career Connections program means to her.
Cruz plans to study business at Southeast Technical College.
Ibrahim, inspired by his visit to LifeScape, applied and has been accepted into the University of South Dakota's nursing program.
"Working directly with the teachers and students has enabled us to identify barriers and apply resources and help immediately to the students," Guzzetta said.
The Career Connections program is available in six of our community's largest high schools. The program is looking to expand next year to help define more career and educational pathways for students after graduation. To learn more about participation, email deniseg@siouxfalls.com.
Connecting in college
As students advance through college, the Development Foundation continues to connect them with Sioux Falls and the career opportunities available here.
When the pandemic began in 2020, the Development Foundation innovated and flawlessly transitioned programming from in person to virtual.
Digital enhancements included establishing a strong presence on Handshake, the largest collegiate online network dedicated to underserved students and alumni. This platform has simplified the communication and engagement process with administrators, professors and students.
"We enabled several ways to help organizations to connect and engage talent using Handshake, from programs, internships and employment opportunities," Guzzetta said.
The Sioux Falls Development Foundation's Handshake network has grown to more than 2 million students in less than two years.
For in-person experiences, new approaches to internships are becoming an innovative way for businesses to establish relationships with future employees.
In the fall 2021, the Sioux Falls Development Foundation, the Greater Sioux Falls Chamber of Commerce and the city of Sioux Falls collaborated and launched a pilot micro internship program with the University of South Dakota's Beacom School of Business.
Over eight weeks, the Sioux Falls Development Foundation helped 30 very motivated, talented college juniors and seniors with placement. Students engaged in intensive learning projects and experiences in financial services, construction, land development, manufacturing, government and nonprofits to apply knowledge to practical and real-life work experiences.
"Internships are increasingly becoming more the norm for students of all ages. Internships are evolving to year-round experiences for students," Guzzetta said. "We are at the beginning stage with these experimental experiences, seeing demand increase daily for micro and project-based internships."
The Sioux Falls Development Foundation plans to build on the robust internship program this year, with more students from USD and a new cohort from Augustana University to help smaller and midsize businesses attract the talent they need.
"Now is the time to get connected, so we can begin bringing talent into your organization that will help meet your workforce needs today and in the future," Guzzetta said. "We're making a difference both for students and for businesses, and we're positioned to build on that success."