A (17 residential lot) development that hadn't seen action in seven years, and we filled that up.
The plan was that builders Ron and Lori Kuipers would move to Valley Springs, build a house as part of a larger development and call it home.
"That was the intention," Ron Kuipers acknowledged. "But everything we've built has sold."
So for now, the owners of Homestead Construction are living in what he calls a "shous" – a shed converted into a house – while helping their new community take shape around them.
"When we came five years ago, there was nobody building here," he said. "That's either a good thing or a bad thing."
They quickly found out it was an opportunity waiting to be seized.
They purchased 17 residential lots on the southwest side of town from "a development that hadn't seen action in seven years, and we filled that up," Kuipers said. "It was either leave town or keep going."
They decided to keep going.
Their new 30-acre development, Homestead at Valley View, is just to the south of where they were building, and they hope to build on their success.
"We'll have about 70 homes," Kuipers said.
"We decided to start one over the winter, and we're close to having it done, but that's the only inventory available, so there's definitely a need."
You read that right: It's the only available home in Valley Springs.
The community of about 760 people as of the 2010 census has grown steadily in recent years, with demand from residents looking to take advantage of more affordable living and a small-town feel within the Brandon Valley School District.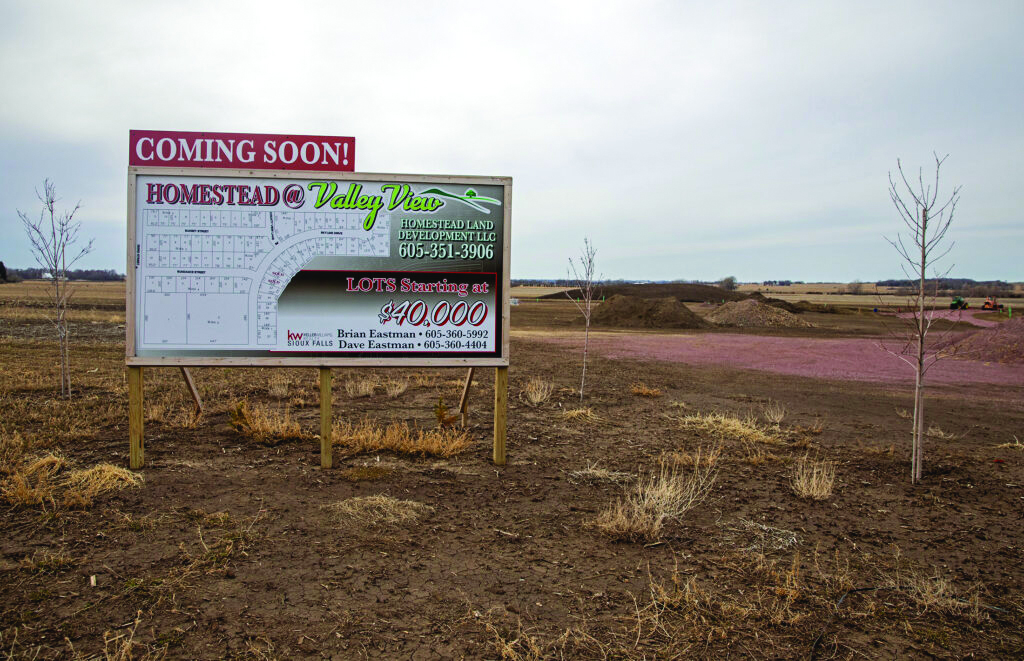 Valley Springs is absolutely a community on the rise
"Valley Springs is absolutely a community on the rise," said Jesse Fonkert, executive director of the Sioux Metro Growth Alliance.
"The investment that Homestead Construction is making to bring much-needed homes to this area is such a win – for them, for residents looking to move in or move up and for overall economic growth of the community."
Valley Springs "is just a tight-knit, close, friendly community," Kuipers agreed. "You're five minutes from Brandon, 15 minutes from the east side of Sioux Falls and about 20 minutes from the west side. It takes you longer to get across Sioux Falls."
The Kuipers also are setting aside 6 acres of their development for commercial use.
"The intention is to draw a convenience store or Dollar General or something like that," he said. "And the property is along the highway, so as even more people move in, we think it will be an attractive commercial location."
Homestead Construction has finished water and sewer infrastructure, and the plan is to build streets and be ready for curb and gutter this spring.
There are 25 lots ready to sell now, ranging from $40,000 to $48,000. There are options for twin homes as well as single family.
"We have one sold, and we're starting construction in April, so we'll probably see three houses going up in April because we're planning a spec house and working on plans with another client to start."
Buyers can work with any builder, he said. Homes likely will range from $300,000 to $600,000.
"We've specialized in the move-up or second home," Kuipers said.
As for their own home? That's still in the plan too.
"Builders are always the last ones to get their house. But we do have intentions on building our house this year," he said. "We're just enjoying being part of the community and going about it having fun."