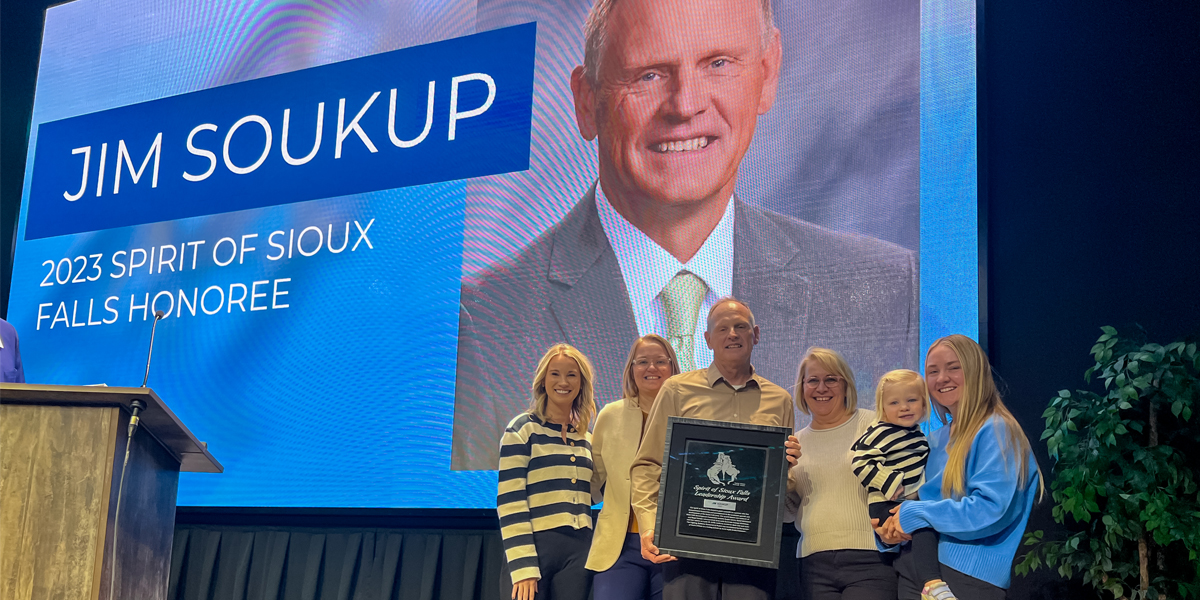 The Sioux Falls Development Foundation honored Jim Soukup, President and CEO of Soukup Construction, with its 'Spirit of Sioux Falls' Award at their 2023 Annual Meeting on Thursday, November 16.
The award is presented to an individual who has demonstrated leadership and commitment to the economic growth and development of Sioux Falls, and honors the memory of former Development Foundation staff and board members David Birkeland, Angus Anson, and Roger Hainje, who perished along with Gov. George Mickelson and other state officials and staff in 1993 as they returned from an economic development mission.
"There is no one more deserving of this award than Jim," Foundation board chairman Steve Kolbeck said. "There are countless examples of the ways that he's used his knowledge and business acumen to improve our city. Whether that's through his service to the Development Foundation or other facets of city government, he's been a steady leader, and we are proud to honor him in this way."
Soukup served on the Foundation's Board of Directors from 2010-2015, and has remained a member of the Foundation's Real Estate committee because of his institutional knowledge and sage advice. Additionally, Soukup worked with the City of Sioux Falls to secure the necessary land for its new state of the art Public Safety Campus and has been a resource to various aspects of city government.
"There's no one at this point in time who truly embodies the Spirit of Sioux Falls like Jim Soukup," said Dean Dziedzic, Vice President of Economic Development for the Sioux Falls Development Foundation. "He's been a dedicated volunteer within the Sioux Falls Development Foundation, and has guided us in making strategic moves in terms of developing our industrial parks. We've been blessed to have him as part of our organization long after his board term has ended."
2023 Spirit of Sioux Falls Honoree: Jim Soukup